Locator
Locator has evolved as a way to share practice in community. We attempt to cultivate a sensory porosity to the influence of things and the life of ecosystems. Through movement we sensitise to their generous affect and make them familiar to us.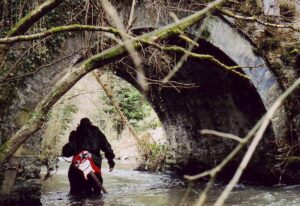 Simon offers a process of one to one, or small group mentoring and companionship for artists at all stages of their working lives. He offers dialogue through relational movement practice, ecological and social engagement through embodied process and approaches to working with materials and objects.
Situated in the cottage residency centre at 2 Penrhiw in the village of Abercych, Pembrokeshire participants are able to develop bespoke residency processes in dialogue with Simon responsive to current preoccupations in their working practices. Activity might take the form of walks, scores, bodywork (Simon is a Craniosacral therapist), conversation, reading, moving into writing and drawing, workshopping, reflection, silence and observation.
Participating artists are able to be in residence for up to 3 days. Please contact Simon for rates and any questions.
Read More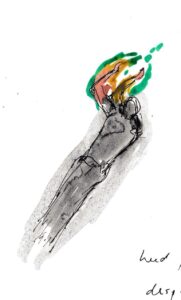 Locator is a suite of residential workshops that happen annually, each in a different season. Beginning in autumn 1993 on the Llyn peninsula in north Wales locator has since largely played out in Tycanol, a sessile oak woodland and SSSI (Site of Special Scientific Interest) in north Pembrokeshire. An independent workshop created by Simon Whitehead, locator is an ongoing forum to share ecological ideas through movement practice. Facilitated through a process of moving, dancing, walking and drifting, witnessing, howling, drawing, writing, fasting & eating, making and resting. These workshops offer a means through which we might experience and learn from the complex materiality of a location within the intensities of collective experimentation and living.
These workshops are ongoing and happen once or twice a year. The next in person/ located workshop will happen in May 2022.
Read More
Theatre, Dance and Performance Training, 2021 Vol. 12, No. 2, 285–295, Click on link: 19443927.2021
Following postponement in June 2020, we will now proceed with the next in- person workshop: Locator 30 – Preparations for Landing… RESIDENTIAL MOVEMENT WORKSHOP Brynberian, north Pembrokeshire. 12-15 May 2022 (limited places available) 'There's nothing more innovative, nothing more present, subtle, technical and artificial…nothing more creative, nothing more contemporary than to negotiate landing on some ground.' (Bruno Latour- Down to Earth. 2018) It is 28 years since Locator began, so this year we return to the Read More
3 online physical workshops, each happening on the 3rd Friday of each month from February to April 2022 16 February, Homing 16 March, Touch of Things 20 April, Drifting together  2pm-4.30 pm. (£12 per session, or £30 for all 3). Each session will last for up to 2.5 hours and will involve the sharing of a movement score and a process of collective preparation. Each of the scores will take the form of a drift Read More