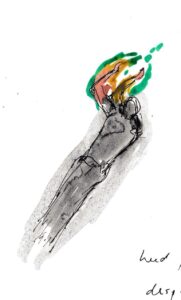 .          everything that we touch, touches us…
In this workshop we will ground ourselves in the touch of this place- walking, moving, drifting, eating, fasting, swimming, drawing and thinking; through partner and group movement scores, small scale expeditions (day and night) we are led by the patterns of weather, land, sea, atmosphere and the other beings we encounter. A time of gentle resistance to productivity and a time to land within the inspired fellowship of others, we explore what it is to be in touch with a moving Earth, to be contiguous with its forces and lifeforms.
Situated in a working landscape in rural west Wales with immediate access to ancient forests, waterways, the sea, bridleways and pilgrim routes, we will base ourselves at Bryncoed. A camping ground in the midst of wild flower meadows, close to the Nhyfer river, Bryncoed is a generous base for this work. Situated close to Tycanol, an ancient sessile oak woodland and a SSSI nested beneath the Preseli hills, west Wales- the adopted home for this located performance practice, Locator has evolved as a way to share practice with others. We cultivate a sensory porosity to the influence of things and the life of ecosystems. Through movement we sensitise to their generous affect and make them familiar to us.
Touch tells us, doesn't it, that we belong to the Earth? as we move through it, it in turn moves through us…
In this Locator workshop we meet 30 years of this shared practice, its ongoingness, its embedded-ness in a place and the traces of an accumulated community of movers and makers…
Costs (including accommodation and welcome meal):
£300 for camping ground, with your own tent, or a shared bell tent with 2 others
£325 for a small room in a caravan (2 places)
We will prepare food together each day.
Please book early to reserve a place and state your camping preference (limited to 12 participants).
£200 deposit, balance due on 11 August.
For information, booking/payment details and travel contact: simon@simonwhitehead.net
*(Locator 31 will be a largely mobile, laptop and tablet free- zone! However, each day for one hour it will be possible to walk up a hill to find a signal and plug in…)