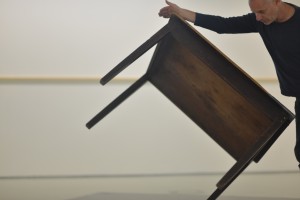 Studies for Maynard is a meditation on dislocation; the always unfinished practices of making home and sheltering; referencing the biography of an embryo; the Apollo 9 mission; the territorial behaviour of ravens, the writings and walks of Rajah Shehadah and Starman by David Bowie. Home here is more than a place; it is a network of resonances, as fragile and changeable as weather.
Resembling ephemeral line drawings, these studies emerge from gestures, voice, narratives and the systematic movement of an old school table, on which is inscribed the name 'Maynard'. During 2016 the work was developed to form a larger dance installation, including sound and video, with long term collaborator Barnaby Oliver and film maker Tanya Syed.
The solo was shown in April 2015 in Abercych Village Hall, Pembrokeshire, where Simon lives. In a chapel in Powys, Capel y Graig, in July and each day as part of a residency at Oriel Davies Gallery, Newtown, Powys, October 7- 21st 2015, where new studies were developed (see diary). In 2017 a durational version of Studies for Maynard was shown as part of the inaugural Cardiff Dance Festival, at Chapter Arts Centre. With further performances at Siobhan Davies Studios, London, Oriel Myrddin Gallery, Carmarthen, Aberystwyth University, Coventry University Dance Department and later at the opening of the Brussels International Dance Film Festival in Belgium. The live solo continues to be shown on occasion and developed in gallery and other public spaces.
The film 'For Maynard' by Tanya Syed was completed in 2017 and was premiered in Swansea at Cinema and Co. Subsequently screened in Aberystwyth University, 'Light Moves' International Dance Film Festival (jury selection), Visions festival/ Bow Arts, London and online.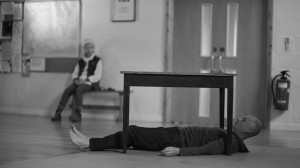 'Simon Whitehead's two-week residency introduced a movement practice to the gallery that offered an intimate, transformative, exciting and powerful experience to regular and new audiences to Oriel Davies. Working in the context of a gallery space has opened up rich ground for new dialogues for both the artist and the organisation, exploring the possibilities for (expanded) contemporary dance practice to exist within this environment and how and what kind of engagement between artist and audiences might take place.'
Alex Boyd Jones. Curator. Oriel Davies Gallery
'Audience members are invited to think about climate change, of things going out of balance, of transience, of remembrance, the loss of loved ones…none of this is spoken. Rather it emerges from the actions of Whitehead moving with and trying to balance a precarious and clumsy object that always seems to be tripping him up, or on the verge of toppling over…
Whitehead's work resonates with complex and original ecological ideas. In it ecology is not simply about nature, but about how we exist emotionally and politically as human beings together.'
Carl Lavery. Writer and Professor of Theatre Studies, Glasgow University.
photos: Ray Jacobs & Tanya Syed