Snag – a movement workshop with Cai Tomos and Simon Whitehead on Harlech beach
Saturday 9th April 11am-4.30pm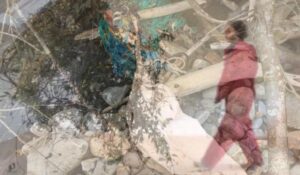 Cai Tomos & Simon Whitehead have known each other for many years, they first met on Harlech beach in 1996 during a movement workshop that Simon was facilitating. In this new workshop they return to Harlech to share a recent collaborative practice, 'Snag'.
Snag has developed during the pandemic, it is a live process of moving in relationship with found materials, witnessing each others attempts and writing from the experiences. In Harlech Cai and Simon will invite participants in a search for washed up materials and detritus and will introduce a process of working in bodied response to their qualities and mutual affect.
Lockdown shaped Snag into something remote, quiet, necessary and strangely intimate. The artists take this opportunity to invite others to share this physical process in the wild and changeable conditions of Harlech beach, working together with the implicit humour and ensuing surprises of the practice.
Please bring: drawing/writing materials, all weather clothing, something for lunch & drink.
Please note these events are not designed specifically for children, but artists are very welcome to bring their children if they have caring responsibilities.
Join an event in your local area or travel to a new part of Wales to meet other artists. Working in partnership with local arts organisations and teams, each gathering will be gently facilitated by local artists who will weave some magic to inspire us!
Accessibility
If you have any access requirements please let us know on the booking form how we can help you participate in this event.