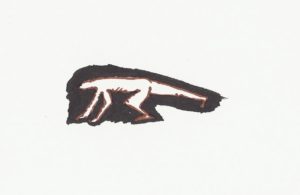 RESIDENTIAL WORKSHOP
13-17th April 2018
Tycanol, Pembrokeshire, Wales/ Cymru
tender is the night… is an immersion in the liminal transitions that lead into darkness and from darkness back into light.
There are ways that movement reveals the darkness as an ecological resource, rather than a domain of distrust. How might our dark adaptive physiology be accessed and attended to through dance practice? This workshop introduces physical practices and scores that invite a tender engagement with the night time, wildlife, our selves and each other.
We will work both day and night in the studio and on expeditions into the hills, forests and coastline of north Pembrokeshire. Here the darkness has material texture, and invites different ways and physicalities of being in a place at night.
For the duration of Locator 27 we will proceed without electrical light, using firelight and candles to navigate the night time.
Accommodation is in a converted medieval gatehouse at Pentre Ifan; with bedrooms, showers, kitchen and studio. Plus the possibility of camping.
For information and travel contact: simon@simonwhitehead.net
(closest rail links: Clunderwen, Carmarthen and Fishguard)